January 20th, 2008
This is one of my photos that I put through photoshop filter called "cutout". I have been seeing more and more people who have taken a photograph, put it through "artistic filters" in PhotoShop, and call it original art. I taught PhotoShop and can easily spot the effects. Some will print giclees and call those paintings or trace off the image and then paint it. I feel that this is crossing the line and is dishonest and is mis-representing the work as something it is not.

Observation is probably the most important factor in art. When we look at a subject, we can adjust our vision to see certain things whether it be value, color or texture… or whatever. It's like when you look into a drawer of junk looking for your keys…you have a certain shape or object in your head and when you spot that shape a light goes off in your brain. I think that PhotoShop is a wonderful tool and I love using it. I fact, it can be a useful tool to show us how to see more abstractly. By taking an image and putting it through certain filters, such as cutout, you can see varying degrees of abstraction and can be a revelation in itself. But to copy the image an call it original art is wrong, and this kind of image must be segregated into it's own category... either photography, or digital imaging?

As a plein air painter, I used to get upset when I saw paintings that were obviously traced from photos or projected on a canvas, something that is very easy to recognize which I have come to accept as another artistic method... but this is worse... This is letting technology replace the creative element in painting. It is what it is, but don't call it ORIGINAL ART! At some point the word "Cheating" needs to be injected into the discussion.


January 20th, 2008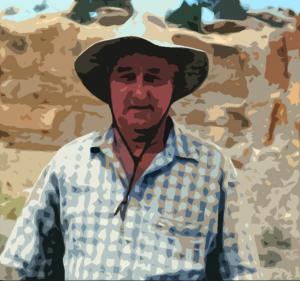 Style / Rules of Engagement

People will often complement me on my "style", or sometimes, if that person is also and artist, they might say they like my "approach" to painting. Many people will say to me, whether they like my work or not, that they can always tell my painting apart from other artists, having a distinct style. In thinking about this, I began to ponder the causes for this. Is style a function of the artists ability, talent and training? If a person can always tell your work from others, does that mean you have a style that is unique to you, or perhaps your in a rut and afraid to venture out and try new things. After all, I turned 60 a few months ago, and I would rather not use an old retread like old dog learning new tricks. I don't buy that one anyway. Two years ago I was not using the internet, however in the past two years have become quiet adept at using it. I can actually say that it has changed my life. . . but that is a story for another time… so I will not digress any longer.

I consider myself a purist, at least as an artist. As a teacher for ten years at Bauder College in Atlanta, I remember teaching my "Basic Color and Design" class that "in art there are no "rules"…. But we do have "guidelines"…. principles that make-up the foundation of artistic design. Well, I have thought about this statement for years, and I have come to the conclusion that our "STYLE" is a result, partially at least, of the "rules" we set for ourselves in creating our artwork. I for instance will never use opaque white paint in watercolor. Very seldom will I scrape or scratch or blot the paper to create white. White is "always" pure white virgin paper. Early on I stopped drawing with graphite pencil on my paper before painting, opting to block in and isolate my white shapes with large washes of color using big brushes and progressively using smaller brushes and darker colors. Another "rule of engagement" is to paint on location, plein air. I also work from photographs that I have taken, but being there with the wind to your back and racing the sun and feeling the urgency of the moment, are all factors that effect the outcome of the artwork. Of course it is also the other factors I have mentioned, including the subject matter, media and attack of the brush to canvas or pencil to paper. Another way to affect the look of your work is to limit the pallet that you use. Try only using 8 colors or 4 colors, or even two color, such as complimentary colors orange and blue. But the "Rules of Engagement" if you will, determine to a great degree, the look you will achieve… your style.

Again as a teacher, I gave students life drawing lessons where they would have 20 second gesture drawings vs. 20 minute contour drawings. These two extremes being the rules of a time limit affecting the outcome or approach you take in the artwork. I have done this myself by limiting my drawing surface to the backs of business cards 2"x3.5" and using a pen so there is no erasing and going back, throwing in the next rule of starting a drawing at a red traffic light and stopping when the light turns green again. This defiantly increases the urgency of the drawing and heightens the electricity of the line quality… try this one. Another idea you can try is doing sketches of talking heads on TV talk shows. I recommend CSPAN, since they stay on the speaker for a longer time generally.